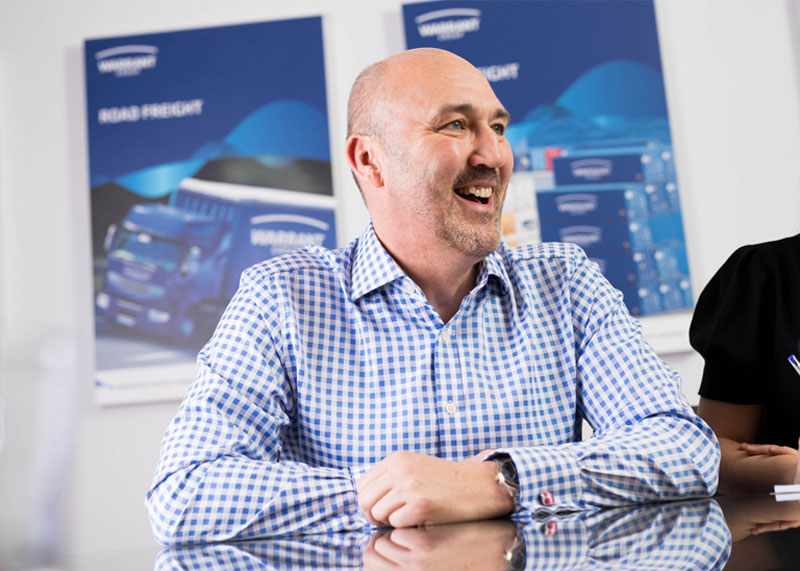 In the second of our 'Can Do' blogs, we join Andy Simpson, Head of Supply Chain & Business Development at 3.40am, mirroring the busiest part of the Chinese day.
I am closing in on my 20th hour, it's deadly quiet, but in my world it's anything but.
I wonder just how my team and I are going to get through this. How did our beloved industry end up here?
Mirroring the busiest part of the Chinese day reaps the biggest rewards for our clients, enabling me to make decisions in real time.
My skillset and leadership qualities fit this kind of situation but it would come at a cost to home and family life with no end date to working day, night and weekends.
At Warrant Group, we began distancing ourselves from the competition from day one; in essence to think and act like a 'start up', own the end2end solution and go digital. Taking the easy route of adopting a transactional forwarding approach didn't tick any boxes – doing this the hard way, was the only way.
So, after several years of getting to where we are today, I wasn't going to let a global pandemic undermine my team's years of blood, sweat and tears.
We couldn't and wouldn't be perfect, who could be in a global pandemic? I know striving for perfection can be infuriating but it is important to have professional goals too and never settle for second best.
My sense of responsibility to our clients, to get their product moving and to my team to ensure the business thrives and stands out is never far away. But tonight, we've had a great night and I feel wonderful, despite my exhaustion. Time to switch off.
JUST HOW DID THIS EXTRAORDINARY SITUATION ARISE?
Grasping the concept of how a global pandemic could 'concertina' supply chains and cause end-to-end shockwaves is not easy to understand but as events have unfolded over the last 18 months it has become easier to see how it was inevitable.
The one thing that nobody saw coming was the seismic increase in carrier rates.
The concertina process started when China instigated the first coronavirus lockdown while the USA and Northern Europe remained open; China re-emerged from lockdown only to find the US and Northern Europe had entered their first lockdown, and so on and so on; what I term, the concertina effect.
Supply chains by nature are driven by forecasting, all buying is a derivative of supply chain demand. If your sourcing channel is Asia, your supply chain has entered the disruptive stage and you have to rely on existing stock coverage and steady demand with no peaks.
The problem with any pandemic is that panic buying is classed as a supply chain anomaly that no-one can analyse, forecast or budget for; you simply react to real time data.
Shortage of stock is inevitable but the impact of a pandemic on consumer spending creates chaos and it means that relying on historical data is truly out of the window.
Some sectors flourish creating extreme peaks in demand which makes predictive forecasting virtually impossible.
There is only one option: to both over forecast and buy, mitigate risk and protect. And there lies part of the problem.
When both manufacturing source and end user have no barriers, in essence, both paths are open without pandemic restrictions the strain it puts on logistics is difficult to imagine.
With global supply chains opening up at the same time with lots of capital expenditure on the table and significant amounts of disposable income circulating economies around the world, logistics by definition falls over, because exactly like the buyer managing forecasts, logistics falls victim to the same traits.
Where do carriers, ports, rail operators, road hauliers, warehousing and forwarders all fit in to this complex optic?
Combining Chinese New Year festivities and the slow start up of trade after the holidays coupled with the timing of China's lockdown announcement, it is inevitable that carriers would deploy smaller vessels to counter "zero" export volume from Asia.
With a phased, slow upturn in manufacturing post lockdown and the emergence of both lockdowns in norther Europe and the USA, the use of smaller vessels only carrying fully laden export volumes and no empties was a strategic approach that had weight and meaning.
Why run large vessels in a global pandemic with continents seesawing on lockdown dates with neither open economically at the same time?
The one casualty of a global pandemic, without question, is the empty container, millions of TEU sat at their last destination around the world unable to be repatriated.
The result of any pandemic is at some point, the inevitability of some kind of normality, whereby barriers to closure (excluding eventing and hospitality sectors) in certain sectors are removed, thus creating a wave of supply chain activity to cater for optimistic forecasts, upbeat trends and increased consumer spending. All of these factors produce a healthy economy, with unprecedented levels of supply chain activity meaning even with the deployment of mother vessels, the empty container, remains an enigma.
Carriers reduced and cut services from Asia to Northern Europe during the pandemic and have so far not reinstated them, in some circumstances they are reinstated but fail to call in the UK due to port congestion.
Factor in a post pandemic supply chain, reduced vessel capacity and a lack of equipment, the classic supply chain worst case scenario happens, rates rise putting pressure on margins and the ability to serve with some businesses being forced into suspending their own supply chain in order to ride out the storm.
In brief, allocations were cut or eliminated, forcing forwarders into two strategies, the open market mainly for the transactional forwarder or agree a second tier Sea Priority Go type contract.
HOW DID WARRANT GROUP MANAGE THE PROCESS?
Doing the unexpected I guess, by turning the process upside down, adapting to a new environment rather than follow a "what was" approach of vessel scheduling by Purchase Order.
"What was, is no longer" became my cliché to convey the seriousness of the situation to our client base, with one common theme – vessel scheduling was not possible.
We couldn't guarantee equipment availability, booking release could get granted but EIR refused (container release) so we adopted an EIR release only approach and allocated purchase orders and rate level criteria under a business rule concept agreed with each client.
That way discussions were based on certainty and decision-making. Collaboration became easier, clarity drove success and a willingness to get the job done together became the default template.
Portal data was only EDI at the point factories collected empties, so from a simple business methodology perspective, everything started to click into place, transparency, openness, trust and execution of requirement.
Warrant Group has been lucky, the pandemic had a favourable effect on our client base as we serve strong consumer durable and DIY sectors.
As time wore on it became quite evident that UK Ports were struggling due to congestion driven by large stocks of empty containers. Discharging loaded containers became challenging and berthing slot times were being exhausted prior to full vessel turnarounds while vehicle booking system failures caused hauliers to fail deliveries.
The UK port situation is too complex to narrate in this blog but generally speaking Warrant Group's UK landside product flourished. It came into its own and vindicated our initial strategy as carrier haulage wait times for delivery was weeks rather than days.
Attempting deliveries from quay became impossible in terms of guaranteeing certainty of delivery so an unusual step was taken. It yielded a sea change of difference, no port deliveries no matter where the delivery point was.
Shunt to railhead, route and plan, communicate, restitute; this meant extending the first available delivery day post ETA but it worked and that was all that mattered.
We are committed and passionate about our rail / road programme and the extra responsibility of owning an operation and not relying on carriers to fulfil a client's final mile delivery.
We introduced a third rail operator to our network programme that complemented our existing portfolio of container hauliers, thus expanding our scope, scale and capacity and in the short term, at a cost, as routes did not match the centre of gravity.
As Warrant Group's landscape became increasingly clear, our clients bought into what we were trying to achieve for them albeit by unconventional methods.
Planning a 100% rail and road programme with permanent ETA erosion and ever-changing delivery dates has been a challenge for my team and in truth, we have encountered stressful moments, but I am a big believer in teamwork and stakeholder support with everyone having a voice to contribute their ideas.
WOULD I DO ANYTHING DIFFERENT? NO, WOULD I DO THIS AGAIN? OF-COURSE!
The outlook for H2 2021 is very positive, we have restructured our management team, the development pipeline is strong and for the first time we have potential clients contacting us.
I decided at the beginning of the pandemic that we would not on-board any new business and we adopted a 'thank you, we will be in touch in the future' response.
Without hesitation, this meant concentrating on our client portfolio and their volume, focussing on continuous improvement and remaining who we are at our core: passionate, honourable, trustworthy with a can-do attitude at the heart of everything we do.
A family approach to teamwork with everyone contributing to our success. On reflection, the last six months has been difficult but hugely rewarding: looking back at explaining post pandemic logistics, the seismic shift in rates, the why's and how's, adapting to an intuitive on-board solution that got terrific client 'buy in' and cementing our place as a true rail and road champion.
People is where this blog naturally concludes. It's relatively easy to keep a passionate team motivated although maintaining momentum is an ongoing challenge.
But spending precious time with loved ones and not taking their support for granted, that is truly priceless.