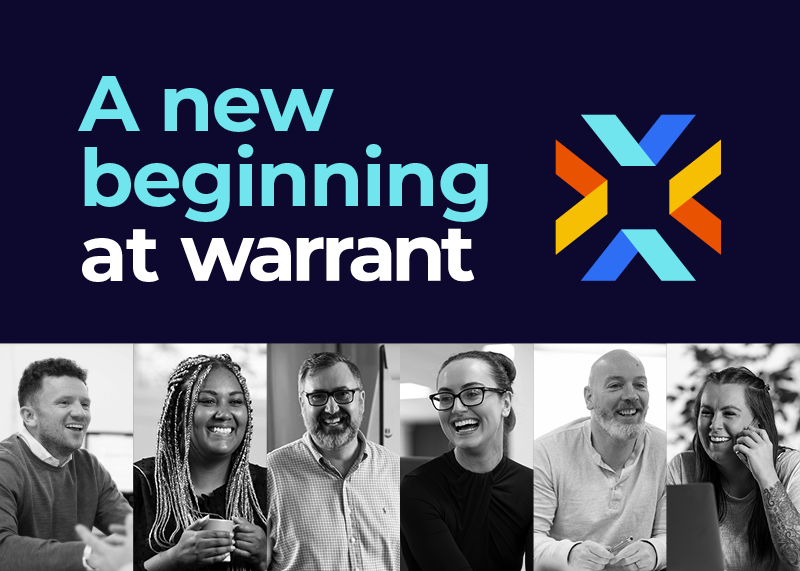 Warrant Group has become an Employee Owned Trust with effect from 1st February 2023.
The owners of Warrant Group, Ian Jones and Lynsey Morrison, have sold 90 per cent of their shares to be able to step back from the business over time.
Ian Jones has stepped down as Managing Director and taken a Non-Executive Director role on Warrant Group's Board of Directors.
Lynsey Morrison has stepped down from her role as Finance Director and starts a new role as Chairman of the board.
Andy Simpson is now Managing Director of Warrant Group and John Healy has taken over as Finance Director.
The changes mark the start of a new beginning at Warrant Group. A new brand and website have been launched to coincide with the changes.
Andy Simpson and John Healy will lead Warrant Group into an exciting new future, setting strategic objectives to grow the business and nurture its family culture and values.
The trust was formed by the desire to sustain Warrant Group's independence in recognition of the fact that the business was built upon the hard work and commitment of its employees.
Ian Jones said: "As owners of Warrant Group, Lynsey and I felt that an Employee Owned Trust fitted perfectly with our company ethos to secure the long-term future of the business.
"This will ensure that our core values, culture and legacy will continue for many years to come.
"We are delighted to announce that Andy Simpson will be taking over as Managing Director, John Healy as Finance Director and they will be supported on the Board by Lynsey who will take up the role of Chairman and myself in a Non-Executive Director capacity."
An employee owned trust is a trust that acquires and holds a controlling interest in a company for the benefit of its employees, giving the effect of employee ownership without owning or buying shares.
Andy Simpson said: "This is an incredibly exciting time for Warrant, and I am proud to be leading the business into an ambitious new era to drive fresh growth with an amazing new brand and the collective strength of our Warrant family.
"Our 'we can' DNA and customer service experience is without question, class leading, and I am genuinely looking forward to engaging with new contacts and forging new relationships.
"Our solutions are perfectly suited to anyone looking for a fresh alternative to industry norms.
"I want to thank both our clients and suppliers for their continued support, and I look forward to laying out my vision for the future.
"My leadership goals are perfectly aligned with the employee owned trust and I look forward to working with the trust for the benefit of the business."